MARKIBAR took part on Hostelco Exhibition at Barcelona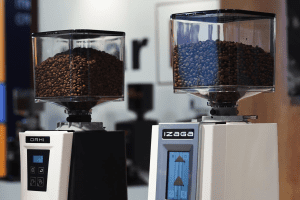 Hostelco was held at the same time as Alimentaria which encouraged many professionals from the sector to visit the exhibition.
After successive postponements of this exhibition due to the pandemic, we were able to be in contact with our customers, who always encourage us to continue improving our products. Our visitors were able to get to know the IZAGA W grind-by-weight and our new ORHI grinder: the latest technology at the service of professionals.
The IZAGA W grind-by-weight, the first coffee grinder with internally scale controlled doses designed for workflow, speed and consistency. Its innovative Grind-by-Weight technology with instant scale controlled dosing guarantees the maximum consistency and a constant quality in all your coffees.
The ORHI professional grinder guarantees precise grinding, high performance at peak times and no coffee going to waste, all with a modern, up-to-date design.